Planning a Trip to Southeast Asia: A Beginner's Guide
---
Southeast Asia has reopened! Longing for an exotic vacation there? A 10–30-day trip to Southeast Asia will fulfill your dreams for a tropical travel experience with its sunny beaches, verdant jungles, adorable elephants, charming old towns, dynamic metropolises, diverse tasty foods, traditional floating markets, and mysterious temple complexes.
Southeast Asia consists of 11 countries. They are conveniently connected to each other by 1–3-hour flights. More than 95% of travelers choose to visit 2–3 SE Asian countries in one trip.
The five most popular destinations for the SE Asia first-timer are Thailand, Cambodia, Vietnam, Singapore, and Indonesia (mainly Bali). For a deeper cultural exploration and a longer trip, Myanmar and Laos come onto the list most frequently.
Spend 5–10 minutes on the following 7 steps to get an instant overview of how to plan a worry-free trip to Southeast Asia.
1. Choose Where to Go
Among all our former customers choices, the best-selling itineraries cover the Southeast Asia travel hubs of Thailand (Bangkok, Chiang Mai, Phuket / Koh Samui), Vietnam (Halong Bay, Hanoi, Hoi An, Ho Chi Minh) and Cambodia (Angkor Wat).
Bali in Indonesia, known locally as (the Island of the Gods), is one of the best choices if you love the thought of sun-soaked beaches, volcano trekking, and scenic countryside with terraced rice fields.
Singapore is extremely family friendly with its convenient amenities, widely-spoken English, various cuisines, Universal Studios, and big events, like the Formula 1 Singapore Grand Prix from September 30th to October 2nd in 2022.
Luang Prabang in Laos and Bagan in Myanmar are favored choices for those loving charming romantic old towns, fascinatingly-designed temples, and Buddhist culture.
Thailand: Bangkok, Chiang Mai, Phuket / Koh Samui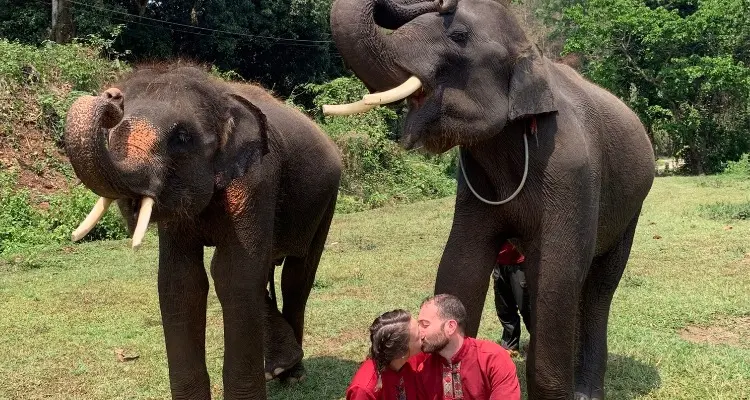 A honeymoon trip in the Elephant Rescue Park in Chiang Mai.
Thailand travel thoughts are usually about sunny beaches, smiling people, ornate temples, and lush national parks.
Bangkok and Chiang Mai are two of the most popular destinations in Thailand. When planning a trip to Thailand, you definitely can not skip the capital Bangkok to soak up the history, culture, and amazing food, while Chiang Mai, the second most important city in Thailand, gives access to elephant sanctuaries, beautiful temples, ancient ruins, and more incredible things to eat.
Located in south Thailand, Phuket or Kok Samui offer you and your family comfortable beach resorts, tropical fruits, as well as various tropical sea activities.
Vietnam: Hanoi, Halong Bay, Hoi An, and Ho Chi Minh City
Temple of Literature in Hanoi
Hanoi and Hoi An represent traditional Vietnam, Halong Bay represents scenic Vietnam, while Ho Chi Minh epitomizes modern Vietnam.
Hanoi is a must because of the incredible, buzzing Old Quarter, displaying history at every turn.
3 hours driving from Hanoi, you can visit Halong Bay, and spend 1–2 nights boating around the numerous islands and admiring the karst formations rising from the sea.
Ho Chi Minh City is Vietnam most fashionable city, known for its amazing food, skyscrapers, and sleepless bars. It is also a must-visit for everyone with an interest in history due to its many museums!
After 2–3 hours driving from Ho Chi Minh, you can transit from city dynamism to the primitive simplicity of the Mekong Delta. Get to see how the local Vietnamese keep their traditional lifestyle: trading in the floating markets, making sugar in a family workshop, living in a boat house, etc.
Cambodia: Siem Reap (Angkor Wat)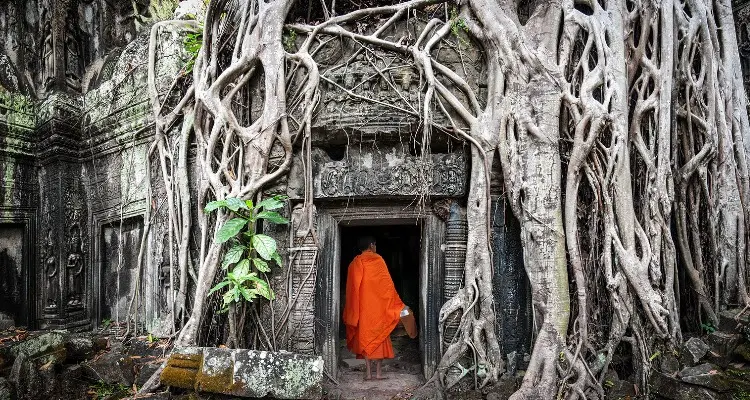 Angkor Wat
Put on the map largely by Angkor Wat, Cambodia is a beautiful country with friendly people, an incredible array of archaeological wonders, and a long history.
Take your time in Siem Reap where Angkor Wat takes pride of place. There is a huge amount to see there besides.
Indonesia: Bali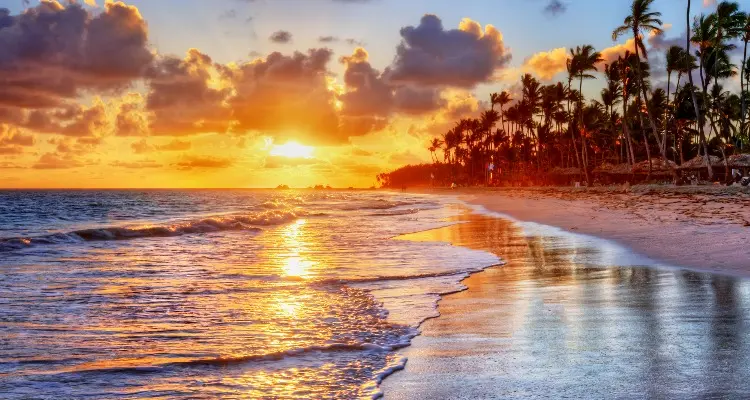 Enjoy a beach sunset in Bali, Indonesia
Bali is a beautiful tropical paradise that offers everything from water sports to yoga: delicious Indonesian and international restaurants, a wild nightlife, beautiful beaches, incredible resorts, friendly people, and shops enough to shop until you drop.
It is one of the most popular destinations in Indonesia, and once you get there you will instantly understand why.
Singapore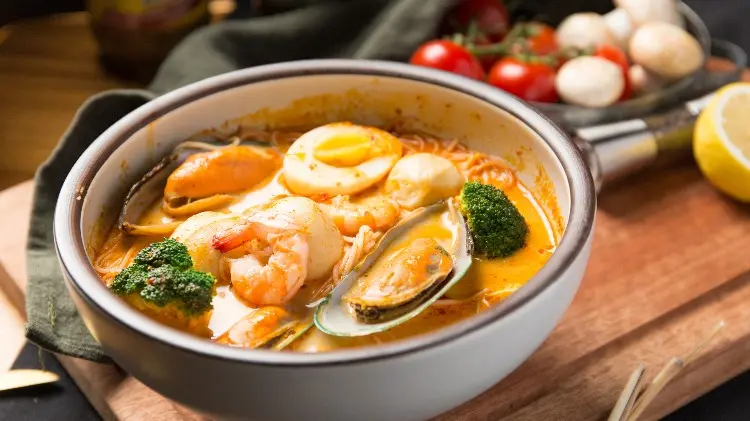 Food adventure in Singapore
Singapore, a clean and modern city, is one of the most family-friendly destinations in Southeast Asia. It is favored by families due to its arts, fashion, food, culture, and big-name events.
Laos: Luang Prabang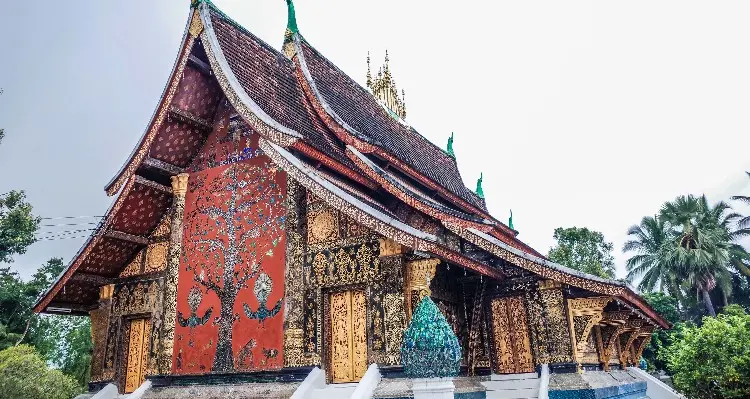 Tribal village in Laos
Heading somewhat off the Southeast Asia beaten track, Laos is a beautiful and tranquil nation offering UNESCO World Heritage sites, charming old towns, stunning natural scenery, tribal villages, diverse ethnic arts, adventure, outdoor activities, and amazing food.
Luang Prabang is its most popular destination as a result of the many beautiful historical sites, the unique surrounding scenery, the pure alms-giving ceremony, as well as its elephant sanctuary with well-preserved habitat.
Myanmar: Bagan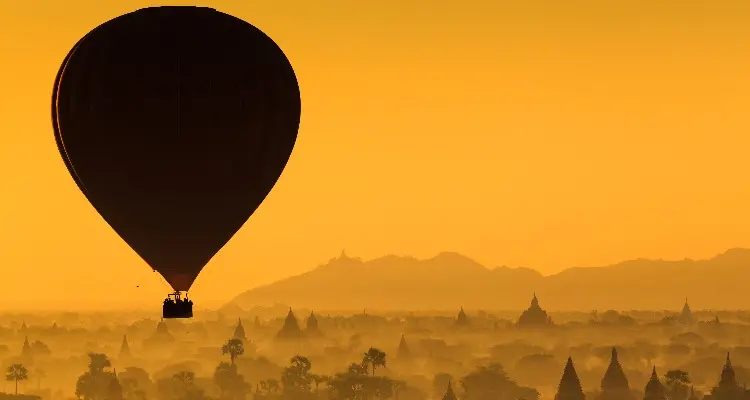 Take a hot air balloon ride in Bagan to enjoy sunrise.
When talking about Bagan, taking a hot air balloon ride over 2,000 pagodas and temples to watch the sunrise from the sky always pops to the mind.
Bagan is enthusiastically loved by photographers, honeymoon travelers, and people who are sympathetic to Buddhism.
Visit Bagan before its overwhelmed by tourists!
2. Decide How Many Days to Stay
Considering the long flight journey (often 20+ hours) from America or Europe and the masses of things to experience, most visitors spent 13–18 days exploring Thailand, Vietnam, and Cambodia for their first Southeast Asia trip.
With 10–12 days, you are suggested to focus on one country or a maximum of two countries to avoid the hassle of frequently changing hotels and rushing to airports. Thailand-Cambodia, Thailand-Vietnam, Vietnam-Cambodia, Vietnam-Laos, Singapore-Bali, etc. are all popular choices.
People traveling around Southeast Asia for 20–30 days are also common. Those who have plenty of holiday time usually plan a thorough exploration of the whole peninsula area (Thailand, Vietnam, Cambodia, Myanmar and Laos).
3. Consider the Best Times to Travel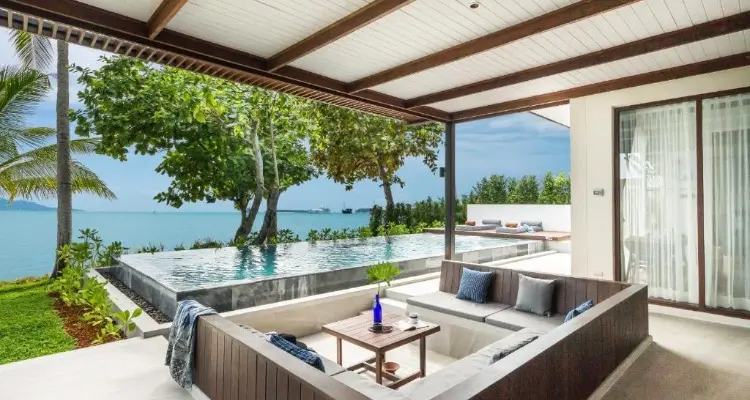 Enjoy your beach resort in Koh Samui
Lying within the tropics with southern areas very close to the equator, most of Southeast Asia is warm all year round.
Generally speaking, the best time to visit most places in Southeast Asia is from November to February when the weather is dry (driest) and warm (on average).
Wet-season monsoon rains fall from June to October in most SE Asian countries (Thailand, Vietnam, Cambodia, Laos, and Myanmar).
April to May are the hottest months with daytime temperature reaching 37–40°C (99–104°F).
However, Indonesia (Bali) and Singapore are exceptions.
The dry seasons in these two countries are from April to September.
The rainy season (usually downpours in the afternoon) falls from October to March.
The wettest months are December to February.
The rainy season and the hottest months usually reward you with less crowding and the best deals for flights and hotels. Take your outdoor activities mainly in the morning time during the rainy season.
Want to attend the romantic Loy Krathong festival in Thailand? Come to Chiang Mai on November 8th and 9th in 2022.
4. Plan Your Budget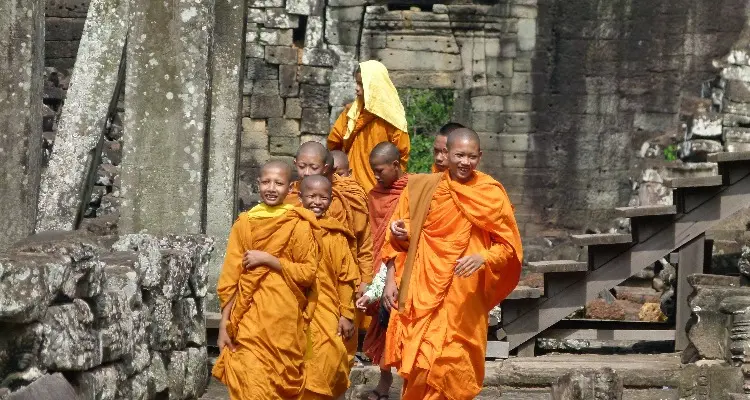 Explore Angkor Wat in Siem Reap
The biggest chunk of the budget for an overseas travel goes firstly to transportation and secondly to accommodation: this is rigid and unlikely to be pruned away. This leaves the sightseeing part to your control when budgeting. How much you want to see, and therefore the number of days you stay, will determine the eventual cost of the trip.
With different travel times come different costs. During the peak season, the cost for a private guided tour plus 4-star level hotels and flight connections within Southeast Asia normally ranges from USD150-220 per person per day on average for a group of 2 people. Traveling in bigger group or during shoulder season usually means less cost.
Dining is pretty inexpensive: around 10 bucks for lunch per person and US$20 to 50 for a nice dinner.
Booking early (at least 3 months before departure) for better prices.
5. Check Visa Requirements
Getting visas is generally an easy thing when touring Southeast Asia. Most countries offer visa-free entry, e-visas, or visas-on-arrival.
If you come from the USA, Canada, the UK, Australia, New Zealand, or Switzerland, the following are available:
| Destinations | Visa |
| --- | --- |
| Thailand | Visa-free entry for 30 days |
| Vietnam | E-visa |
| Cambodia | E-visa |
| Indonesia (Bali) | Visa-free entry for at least 30 days |
| Singapore | Visa-free entry for at least 30 days |
| Laos | Visa On Arrival (Visa-free entry for Swiss) |
| Myanmar | E-Visa |
From Denmark, Finland, France, Germany, Italy, Norway, Russia, Spain, or Sweden, the following are available:
| Destinations | Visa |
| --- | --- |
| Thailand | Visa-free entry for 30 days |
| Vietnam | Visa-free entry for 15 days |
| Cambodia | E-visa |
| Indonesia (Bali) | Visa-free entry for 30 days |
| Singapore | Visa-free entry for 90 days |
| Laos | Visa On Arrival |
| Myanmar | E-Visa |
6. Check Vaccine Requirements
Normally there is no specific vaccine requirement, apart from being fully vaccinated for COVID (except for yellow fever for travelers coming from countries where the disease is prevalent), to visit the most popular destinations in Southeast Asia like Bangkok, Chiang Mai, Hanoi, Angkor Wat, etc.
If your itinerary includes some remote villages or off-the-beaten-path routes, you might be recommended to have the hepatitis A, hepatitis B, typhoid, Malaria medication, and/or Japanese encephalitis jabs done apart from childhood vaccinations.
Its better to talk to your doctor about this at least two months before your trip.
7. Buy Your Travel Insurance (COVID-19 Related) (Updated on June 10th, 2022)
Travel insurance for COVID-19 medical treatment and hospitalization costs is compulsory when entering most Southeast Asian countries:
Thailand: 10,000 USD minimum cover
Vietnam: 10,000 USD minimum
Cambodia: not compulsory
Indonesia (Bali): 10,000 USD minimum
Laos: 50,000 USD minimum
Singapore: not compulsory for children aged 12 and below and fully-vaccinated travelers. A minimum coverage of US$30,000 if you are not fully vaccinated.
Myanmar: 25,000 USD minimum
Malaysia: 25,000 USD minimum
Tips: The above COVID-19 related travel insurance information is subject to change depending on updated entry requirements.
Besides COVID-19 related insurance, a normal travel insurance covering medical treatment, luggage and valuables, etc. is strongly suggested.
Get the travel insurance sorted before you go. You can check with your own bank or an international institution such as Letsgoinsure, Bengo Travel, Holidaysafe, or more traditional providers such as Allianz, Zurich, or Columbus Direct.