How to get Thailand Visa on Pakistani Passport?
---
Thailand visa can be obtained from Embassy of Thailand in Islamabad or Consulate General of Thailand in Karachi. If it is your first time you must visit Embassy or Consulate in-person. If you have visited Thailand at-least once then you may apply through Gerrys.

Required Documents
Covering Letter
Visa request letter.
Visa Application Form
Two visa application forms typed or filled in capital letters. Download Form
Two Recent Photographs
Two color passport size photographs (3.5×4.5 cm) of the applicant (two photos of each child also required if accompanied in the same passport).
Original Passport & Copies
Original Passports along with photocopies of first four pages. Passport must be valid for at least for six months.
Letter from Employer
Reference Letter from the applicants present employer/office, describing applicants job duration of service, income etc.
Bank Statement
Personal 6 month bank statement (if the applicant wishes to provide companys bank statement instead, an additional letter from the bank confirming the applicants ownership of the said company will be requested.
Hotel Booking
Hotel reservation for your entire period of stay in Thailand.
Flight Booking
Two way Flight Reservation or Confirmed Return Ticket.
CNIC Copy
Photocopy of CNIC on A4 paper size.
Blank Cancelled Cheque (new requirement)
Get your blank cheque cancelled from bank before submitting.
Affidavit
If you are applying for first time or if it is been five years you did not travel to Thailand then you need affidavit, affidavit can be obtain from court.
IF BUSINESS OWNER:
Business Registration, NTN Certificate & Company Bank Statement required if you are self-employed.
IF TRAVELLING WITH FAMILY:
Marriage Registration Certificate (MRC) and Family Registration Certificate (FRC) required if applying with your wife. MRC & FRC can be obtained from Nadra.
IF TRAVELLING WITH CHILD(REN)
Birth Certificate of each child and "B-Form" required if travelling with child(ren).
Covid-19 Related
Vaccination Certificate
Travelers must be fully vaccinated with accepted vaccines and proof of verifiable covid-19 vaccination certificate with QR code. Travellers can travel after 14 days of second dose. Travellers under 12 years of age, travelling with parents or guardians, are exempt from the vaccination requirement.
Travel Health Insurance
Travel health insurance with minimum coverage of 100,000 USD. Travel health insurance from local Thailand company is preferable which can be purchased online.
All visitors to Thailand must be in possession of minimum US$500 or equivalent to that amount in any major currency. Anyone who fails to comply with this regulation, may be refused to enter Thailand by Thai Immigration authority at the port of entry.
Visa Fees
Transit Visa (Single Entry): Rs: 4,000
Transit Visa (Double Entry): Rs: 8,000
Transit Visa (Tripe Entry): Rs: 12,000
Tourist Visa (Single Entry): Rs: 5,000
Tourist Visa (Multiple Entry): Rs: 25,000
Note: Visa fee can be changed at any time.
Processing Time
At-least five working days.
Accepted Vaccines
AstraZeneca (AstraZeneca)
AstraZeneca (Bioscience)
AstraZeneca (Covishield)
CoronaVac (SinoVac)
Johnson & Johnson / Janssen
Moderna
Pfizer
Sinopharm
Sputnik V
Thailand Pass / COE
Click Here to obtain Thailand Pass, formerly known as Certificate of Entry (COE). Thailand pass may take three to five working days for the approval process. Wait for the approval, when you receive approval for vaccine certification and paid accommodation, including the RT-PCR test then confirm the approval, and print a Thailand Pass with QR Code.
Click Here for more updates and news on Travel to Thailand.

Click Here to visit official website of Tourism Authority of Thailand.
Thai Embassy in Islamabad
Phone: (051) 8431270
E-mail: [email protected]
Visa Submission: 9.00am – 11.30am (Mon-Fri)
Visa Delivery: 02.00pm – 03.30pm (Mon-Fri)
Address: Street 10, Ramna 5 Diplomatic Enclave, Islamabad, Islamabad Capital Territory.
Website: https://islamabad.thaiembassy.org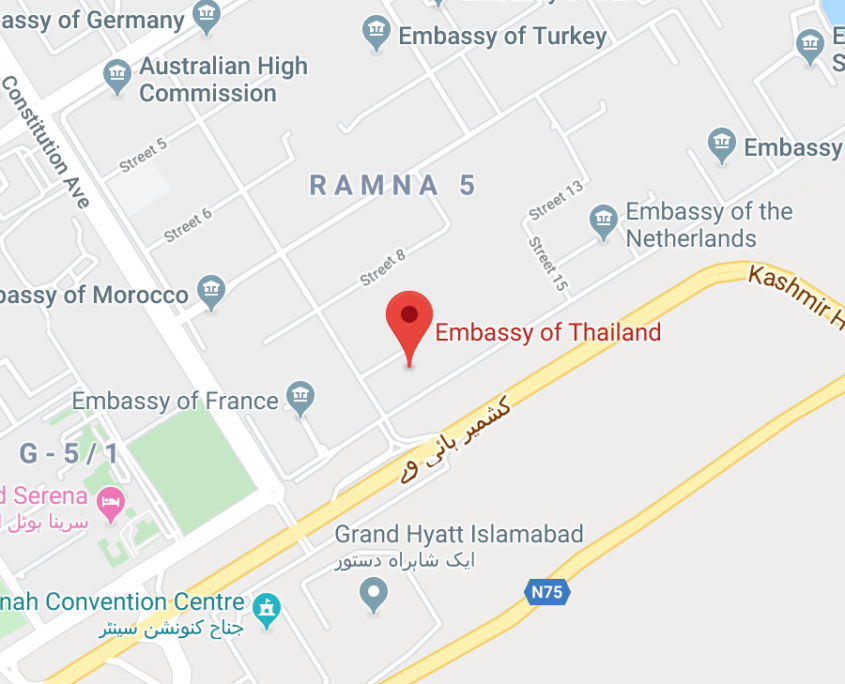 Thai Consulate in Karachi
Phone: (021) 35855405
E-mail: [email protected]
Visa Submission: 8.30am – 10.30am (Mon-Fri)
Visa Delivery: 11.00am – 12.00pm (Mon-Fri)
Address: 151، Main Khayaban-e-Hafiz, Phase-VI Phase 6 DHA, Karachi, Karachi City, Sindh 75500
Website: https://karachi.thaiembassy.org
---
Short Intro of Thailand
Thailand is one of the most beautiful country it is known for beautiful beaches and islands.
Travelers around the world flock to Thailand for the beaches that it offers, there are over 2,000 miles of coastline and 8,000 islands to choose from with many have luxurious white sand, endearing warm water and beautiful scenery.
Thailand is a Southeast Asian country. It is known for tropical beaches, opulent royal palaces, ancient ruins and ornate temples displaying figures of Buddha. In Bangkok, the capital, an ultramodern cityscape rises next to quiet canalside communities and the iconic temples of Wat Arun, Wat Pho and the Emerald Buddha Temple (Wat Phra Kaew). Nearby beach resorts include bustling Pattaya and fashionable Hua Hin.
Capital: Bangkok
Dialing code: +66
Currency: Thai Baht
Cities of interest: Bangkok, Phuket, Phi Phi Islands, Karabi, Pattaya, Koh Samui, Koh Phangan and more
Official language: Thai
Tourism in Thailand
Tourism is a major economic contributor to the Kingdom of Thailand. Estimates of tourism revenue directly contributing to the Thai GDP of 12 trillion baht range from one trillion baht (2013) 2.53 trillion baht (2016), the equivalent of 9% to 17.7% of GDP. When including indirect travel and tourism receipts, the 2014 total is estimated to be the equivalent of 19.3% (2.3 trillion baht) of Thailands GDP. The actual contribution of tourism to GDP is lower than these percentages because GDP is measured in value added not revenue. The valued added of the Thailand tourism industry is not known (value added is revenue less purchases of inputs). According to the secretary-general of the Office of the National Economic and Social Development Council speaking in 2019, the government projects that the tourism sector will account for 30% of Thailand GDP by 2030, up from 20% in 2019.
Places to See in Thailand
Bangkok
Pattaya
Phuket
Koh Phi Phi
Krabi
Koh Samui
Koh Phangan
Koh Tao
Chiang Mai
Note: Koh means Island.
Areas to Stay in Thailand
Bangkok
Khansan road is backpackers favorite place and good for local food, cheap accommodation & nightlife. Sukhumvit area between Nana BTS station & Asok BTS station is famous place to stay.
Phuket
There are many beaches to stay but I recommend you to stay at Patong Beach. This is perfect area for everything, eg: for entertainment, food, attractions, etc. You can rent a motorbike and enjoy a day time ride to caron and other beaches.
Koh Phi Phi
Take a small cruise ticket from any tour shop from Phuket for Koh Phi Phi, when you arrive in Phi Phi, do not forget to book a day tour for next day. This is very small place, walk on streets to have fun, no transport on this island. After two nights stay you can move on to Krabi, Koh Phangan, Koh Samui and/or Koh Tao.
Koh Tao / Koh Nang Yuan
Small and very beautiful island. As soon as you arrive do not forget to book tour for next day. Usually, tour includes "Koh Nang Yuan", this is very small island beside Koh Tao.